Blaylock™ offers an array of services providing everything from conception to production. After the design team covers the intended function of a design to determine if an aluminum casting is the proper solution, Blaylock™ offers advice on the best method to achieve its customer's goals. Blaylock™ has industry leading innovation, quality and superior service which set it apart. Ask about our unique financing and partnership opportunities on custom molds.
---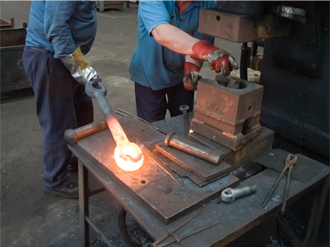 Custom Castings/Our Methods
All molds are permanent molds, made of cast iron or steel.
Blaylock™ maintains 9 furnaces, 2 Hall tilt machines, a heat treat oven capable of T5 level curing as well as a machine shop for finishing.
Blaylock™ pours over 9 ton of aluminum a week.
---
Design Services
Blaylock™ maintains an in house Tool & Die shop for pattern making and mold maintenance.
Depending on the need of the project Blaylock™ has full CAD capabilities.
Is permanent mold right for you? The Blaylock™ team will take the time to discuss your intended function – not just review your current construction.